01

B-turbo dal peso ottimizzato per erogare la massima potenza

02

Potenza 302 kW (410 CV)*

03

Coppia massima 550 Nm*

04

Da 0 a 100 km/h in 4,2 s con M DCT*

05

Regime massimo del motore 7.600 giri/min*
DUE TURBO, UN SOLO OBIETTIVO.
La BMW M2 Competition non ha bisogno di traguardi per essere in pole position. Con il suo enorme potenziale di prestazioni e l'eccezionale agilità, le concorrenti rimangono sempre molto indietro. Grazie a due turbocompressori dal peso ottimizzato, il propulsore ad alte prestazioni offre una risposta estremamente diretta e ha la capacità di salire di regime senza esitazioni, risultando quindi perfetto per gli sprint veloci e le curve sportive. Questa vettura domina la strada e non passa mai inosservata, grazie al sound potente che la caratterizza: è sufficiente premere un tasto per adattare il suono dell'impianto di scarico sportivo M alla modalità di guida specifica. L'impianto di raffreddamento con prestazioni agonistiche garantisce la temperatura operativa ottimale, mentre l'Assetto M specifico assicura la precisione dell'handling. Una vettura per chi vuole dettare le regole della gara fin dall'inizio.

410 CV*
e una coppia impressionante di 550 Nm* regalano un prezioso piacere di guida adrenalinica a partire da soli 2.400 giri/min* - e questo fino a una velocità massima di 280 km/h (con M Driver's Package optional).
DOPPIA SCARICA DI ADRENALINA. AL PRIMO SGUARDO.
Eccitante. Sportiva. Ribelle. La BMW M2 Competition è ricca di dettagli adrenalinici. Le prese d'aria maggiorate e la calandra a doppio rene a figura intera con badge M2 dominano la parte anteriore. Dall'imponente cofano, la caratteristica silhouette da si estende fino al posteriore muscoloso che sembra scolpito. Gli esclusivi cerchi in lega leggera M da 19'' emanano uno straordinario dinamismo, mentre le branchie M con il logo del modello «M2» e le calotte dei retrovisori esterni M in tinta carrozzeria sottolineano il carattere da competizione. Nella vista posteriore, il diffusore M e i terminali di scarico dal taglio obliquo neri cromati indicano chiaramente le ambizioni sportive.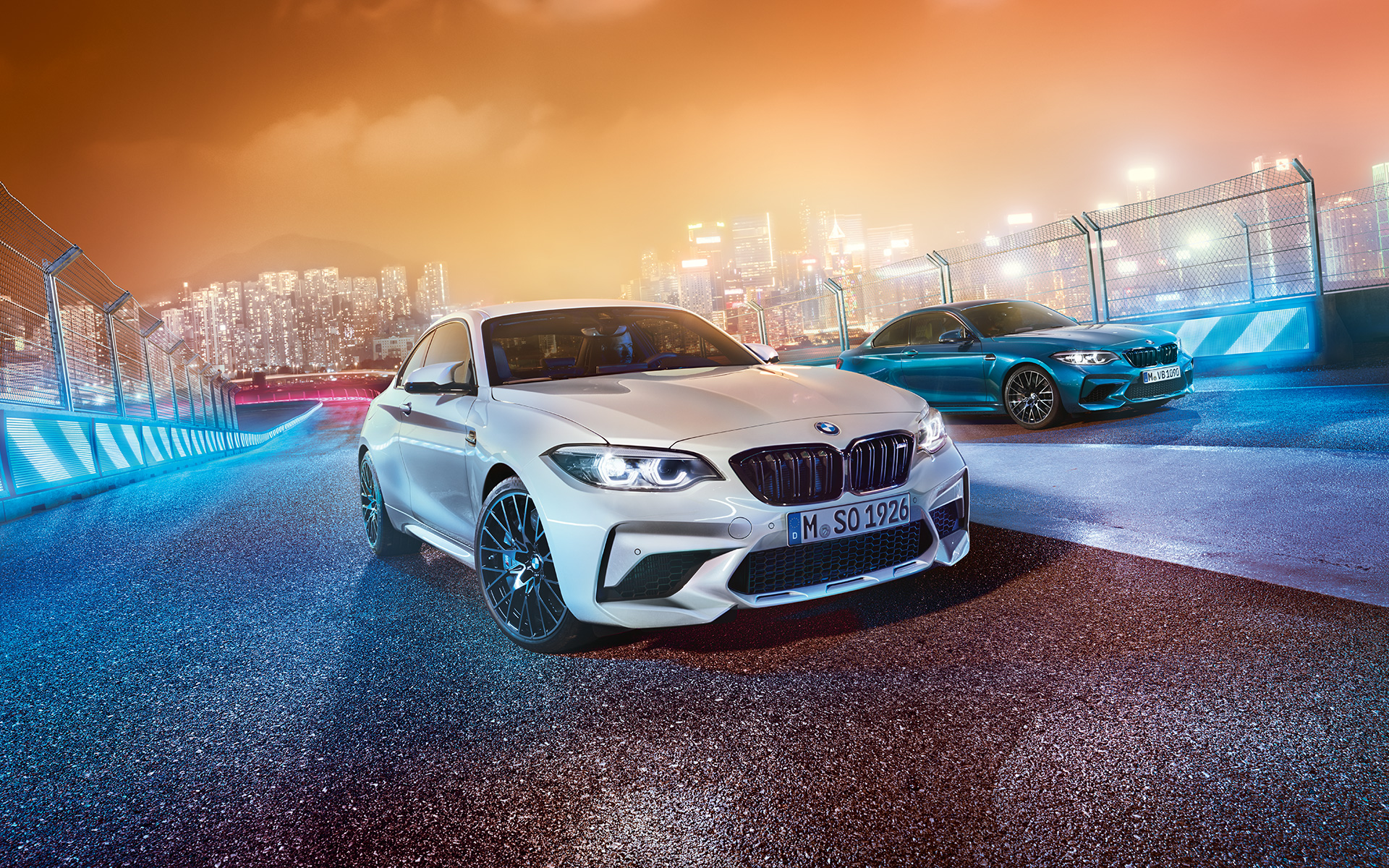 Two BMW M2 Competition on race track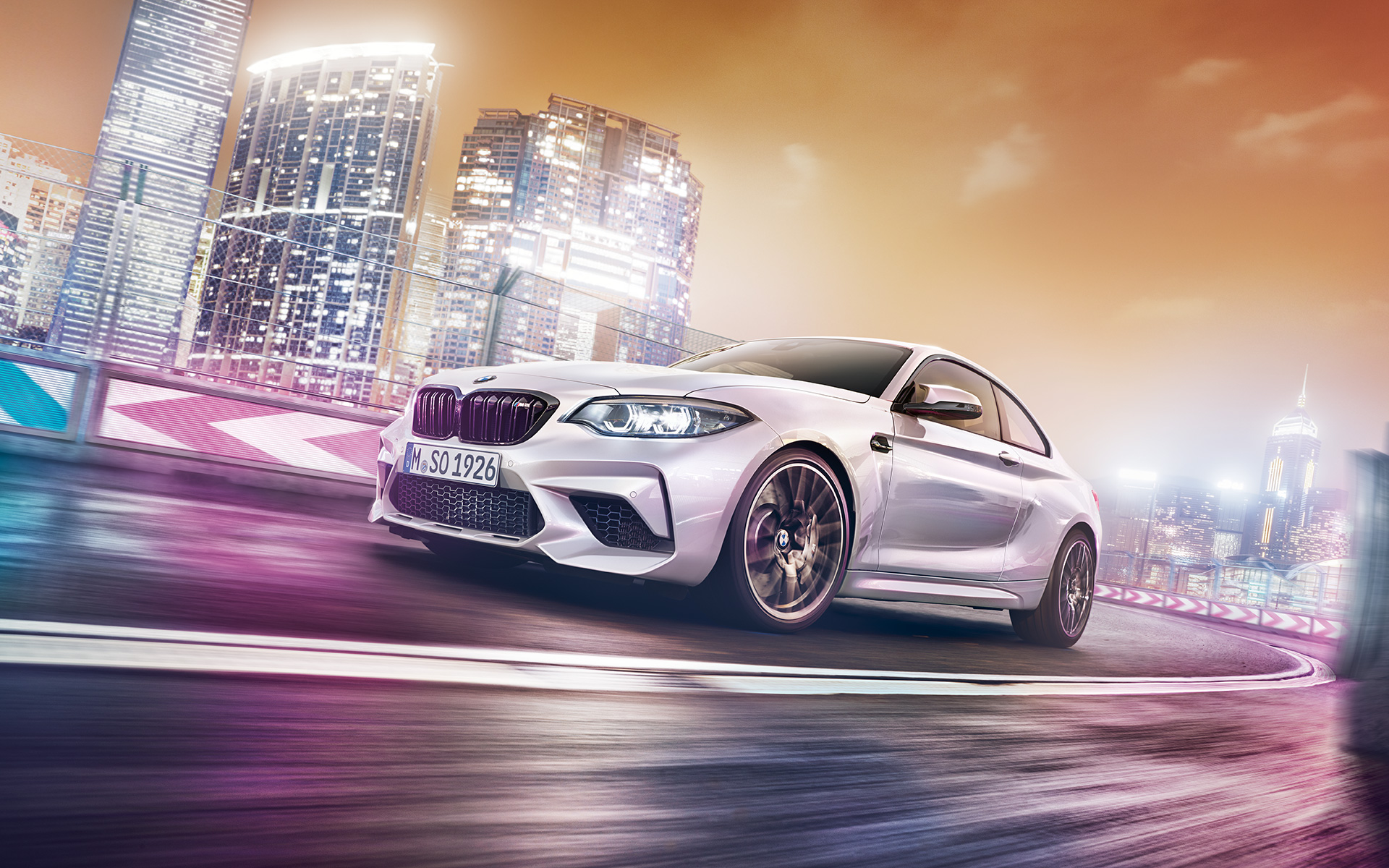 White BMW M2 competition with skyline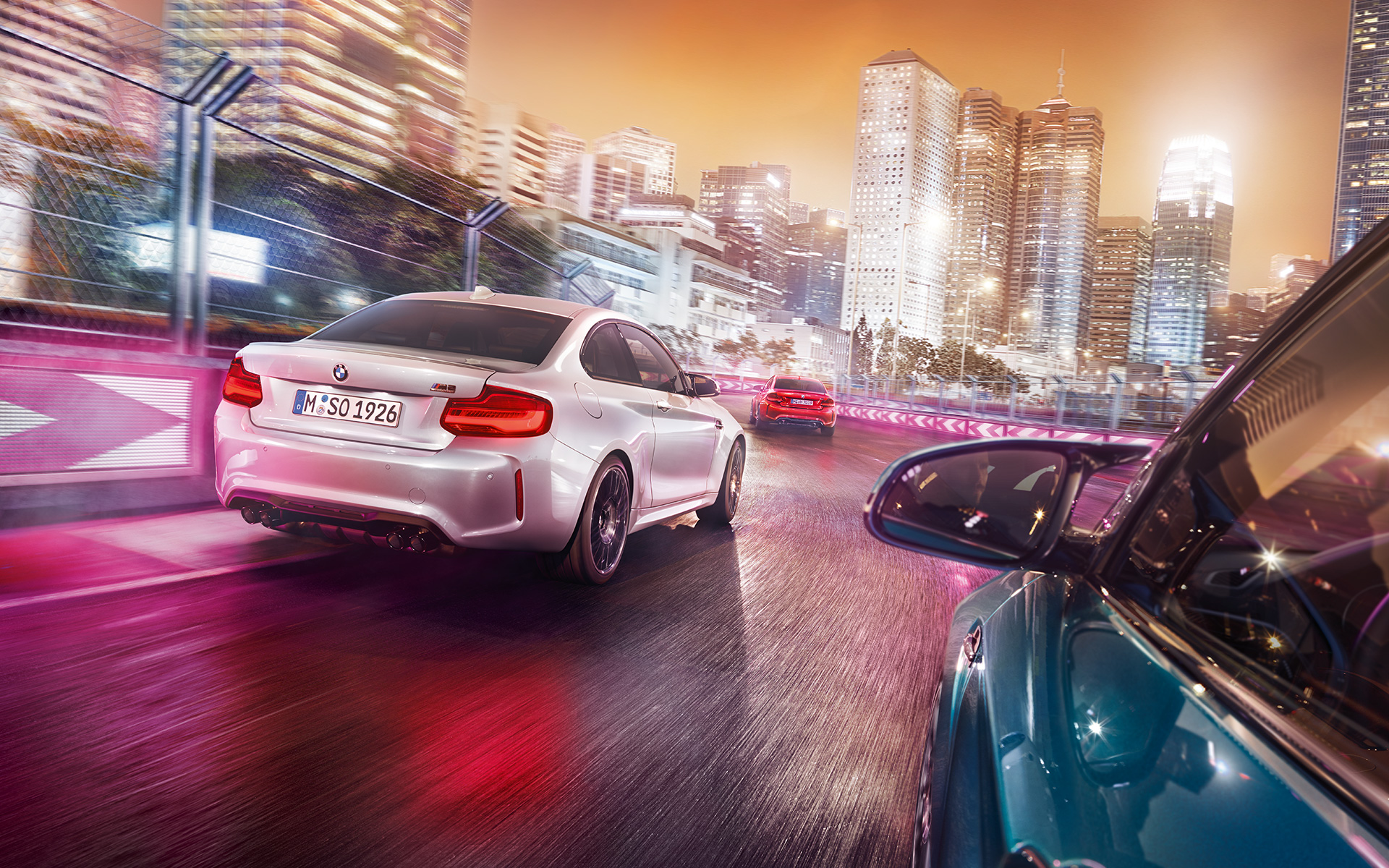 BMW M2 Competition in rear view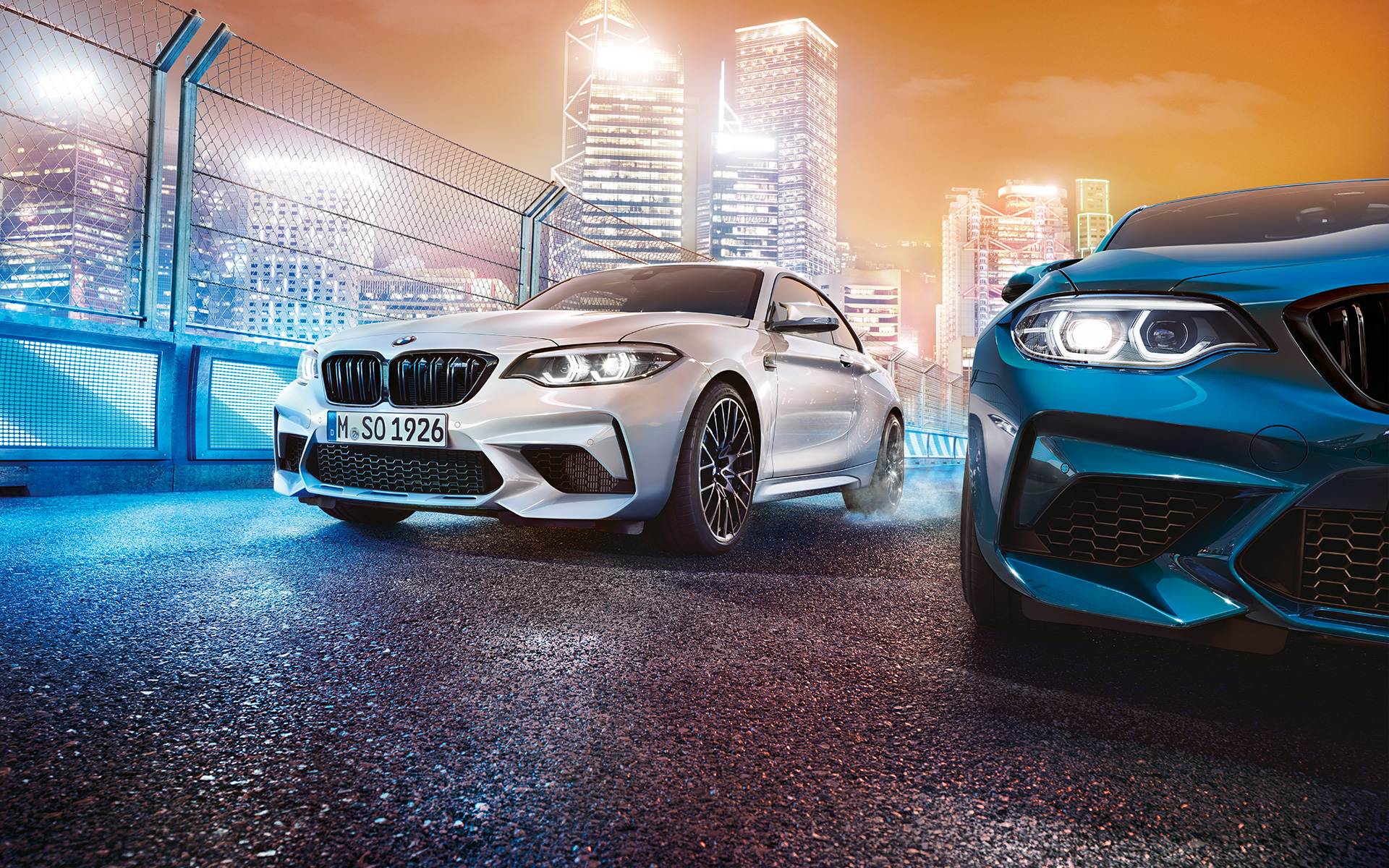 Weißer und blauer BMW M2 Competition in der Frontansicht stehen vor nächtlicher Großstadtkulisse. White and blue BMW M2 Competition in front view standing in front of nocturnal cityscape. Weißer und blauer BMW M2 Competition im Stand White and blue BMW M2 Competition while stationary
METTETE LA FIRMA SULLA POLE POSITION.
Un cockpit progettato per l'autodromo: sistematicamente orientato al guidatore, il display strumenti specifico M è caratterizzato da quadranti rossi, indicatore livello olio posizionato centralmente e scritta «M2 Competition». Anche il volante in pelle M è ottimizzato per le massime prestazioni. Tramite i tasti M1/M2 si possono configurare profili di guida individuali, mentre le cambiate avvengono in pochissimi secondi, grazie ai paddle che interagiscono con il cambio a doppia frizione M. I sedili sportivi M (optional) completano alla perfezione l'abitacolo. Rivestiti in pelle Dakota nera con logo «M2» illuminato, possiedono un look grintoso, offrono un sostegno ideale e sono arricchiti dal design M, ispirato al motorsport.

* Dato provvisorio, non ancora confermato, che può essere soggetto a modifiche.